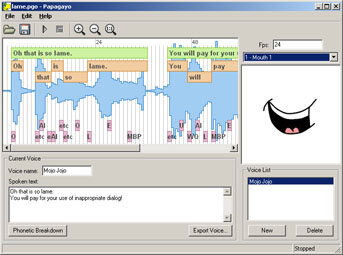 HINT
If you want to use Papagayo without Moho, to help you animate lip sync for stop-motion or 3d animation, just follow these instructions.
Use Papagayo as normal, but when you come to export your voice file just type .csv on the end of the file name, e.g.:
filename.csv
If you do that you can open the file in a spreadsheet like Excel or OpenOffice and read the data yourself for Stop-motion and bar-charts.
Papagayo is a lip-syncing program designed to help you line up phonemes (mouth shapes) with the actual recorded sound of actors speaking. Papagayo makes it easy to lip sync animated characters by making the process very simple - just type in the words being spoken (or copy/paste them from the animation's script), then drag the words on top of the sound's waveform until they line up with the proper sounds.


After syncing up mouth shapes with actual sounds, Papagayo can then export the result for use with Moho, our 2D animation product.

Papagayo is free to download and use. Sync 'till your virtual lips are sore! Papagayo is available for Windows, Mac OS X, and Linux. Download Papagayo below.